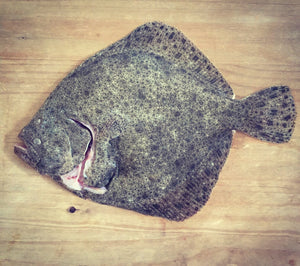 A whole Cornish turbot (~1kg) trimmed and ready for you to roast whole on the bbq, or in the oven. 
The box includes smoked mackerel pâté to start, new potatoes and seasonal greens with homemade seaweed butter, four individual desserts, Devon fudge and a paired bottle of wine. 
This box is designed to comfortably feed 4.
We can deliver the turbot whole, or we can prepare it in two large pieces, on the bone, without the head for easier cooking, or so you can cook for more than one meal. Please select your preparation from the drop down options.