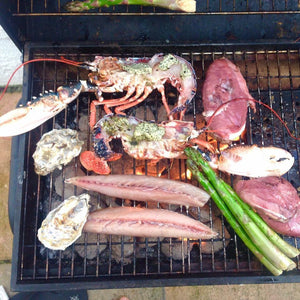 CURRENTLY LOCAL SOUTH WALES DELIVERY ONLY
Our boxes are here to showcase the very best of the South West's produce, and are available for delivery or collection in Cardiff each Friday.
The boxes will feature the UK's best seafood, including lobster, oysters, crab, mussels and our selection of fresh fish, prepared for you with tips on how to finish and enjoy. Also included are weekly changing home made condiments and ingredients designed to set you up for a weekend of exploring the UK's very best seafood, and also contain dessert and a complimentary bottle of wine.
These are not reheat at home meals, and don't come with sides, but provide you with a range of quality ingredients to work with. 
You will be required to do some preparation yourself, but these boxes are designed to be suitable for even the most nervous home cook, and come with everything you need.
Boxes will usually contain whole lobster, dressed crab, mussels, oysters, pickled clams, mackerel Pate, fish of the week, wine and a selection of homemade condiments and treats.
Orders placed by midday Tuesday will be delivered Friday each week.